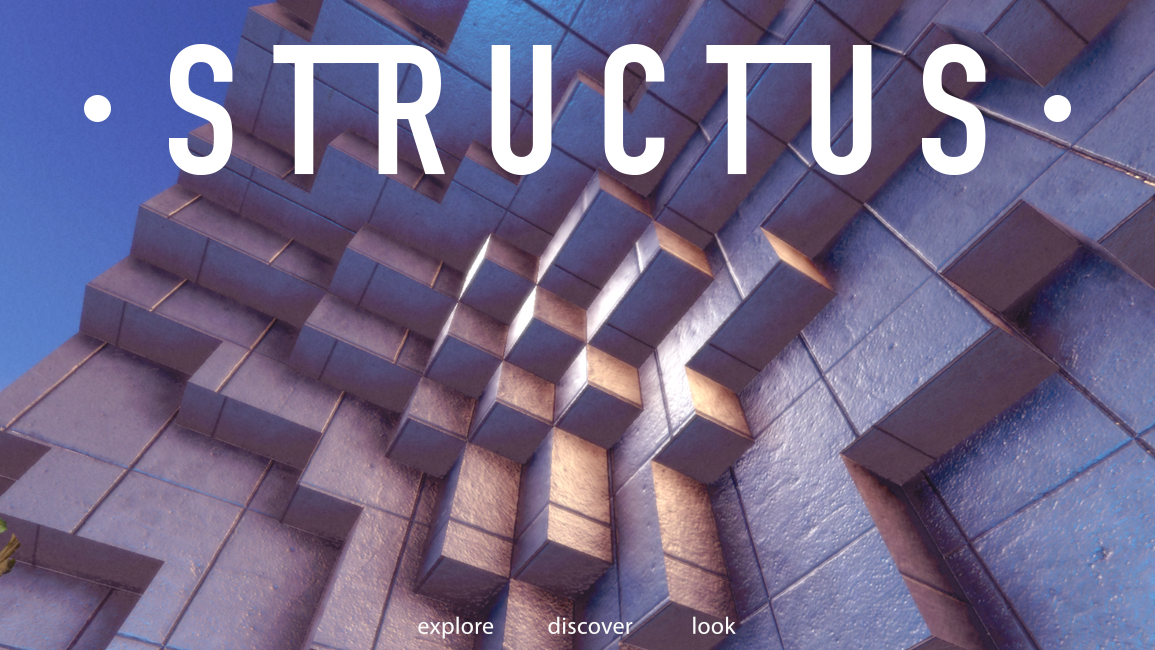 STRUCTUS
A downloadable game for Windows and macOS
STRUCTUS is a short Sci-Fi puzzle / Exploration 3D game.
Discover mysteries, explore strange architectural structures, contemplate weird angles. Nothing is what it seems...
Influences: Donald Judd, William Gibson, K. Dick, Moebius
* The use of games / soundtracks belonging to Star Palm Games (a Gigoia Studios subsidiary) are for the buyer's personal use only and can not be marketed, altered, resold, used for other purposes without prior authorization from Star Palm Games /Gigoia Studios.
Follow us on Twitter: @starpalmgames
Gigoia Studios:
Website site: www.gigoiastudios.com
Itch.io: gigoiastudios.itch.io
Twitter: @gigoiastudios
Hardware requirements:
Processor: 1,4 GHz Intel Core i5 Memory: 8 GB 1600 MHz DDR3 Graphics: Intel HD Graphics 5000 1536 MB or better
Purchase
In order to download this game you must purchase it at or above the minimum price of $2 USD. You will get access to the following files:
Comments
Log in with itch.io to leave a comment.
Are there any plans for a Linux version to STRUCTUS ?
Hello,
thanks for the feedback.
Well, last year we did Linux versions of our games, but we had a lot of negative reviews about weird bugs and the compiler.
After some tests, we decided to keep things under control as possible with Mac and Windows builds. Also we had gamepad mapping issues.
So, maybe we can try again in future to build for Linux. We will wait for future Unity changes and do tests again.
Regards,
Thank you for being open to the idea ! Best of luck and count me in for a purchase if you do choose to make a Linux version.
I'm quite interested in your games but one thing that keeps me from buying them is the lack of information about minimal and recommended hardware requirements.

Hi , thanks so much for the interest in our games :)
System requirements are for mid-specs pc and macs. All games except STRUCTUS original need low-specs computers.

Minimum Macs and PCs system specs are:
Processor: 1,4 GHz Intel Core i5
Memory: 8 GB 1600 MHz DDR3
Graphics: Intel HD Graphics 5000 1536 MB or better
Yet again I am dragged into the world of Star Palm Games. Thank you and here is my video.
Well done (posted before its finished processing)

Hi! great gameplay! you almost solved the first level puzzles ;)
Thank you for the video :)
Hello, i purchased the game from itch.io today, but afterwards I discovered that there is a version of the game on GameJolt also that it's free from Gigoia Studios. I read that the game was acquired afterwards by your studio. So I wanna ask, Is this itch.io paid version of the game updated in any way from the free gamejolt version? Thanks.
Hello Stavros,
really sorry for the confusion. I already notified Gigoia Studios to remove the link. I think they forgot the game at their archives.
The actual version here at Itch.io is the same. There is an altered version, the "low-fi edition"included in a bundle, with graphical changes.

If you want a refund, no problem, just send an e-mail to starpalmgames@gmail.com with subject "Structus refund".
Thanks for buying it and the warning about that.
my best regards,


No, I don't want a refund, I think that the game is great and is well worth the price.
Thanks for replying
Regards, Stavros.
hi Stavros,
thank you. You won a bonus pack! Can you provide an email link so we can send you the files?
Cheers! :)
hey. just want to be friendly and tell you to not post your email online. remove it from here. i don't know, but somehow i know, bad stuff can happen
hi Stavros,
We deleted the post with your email, just for safety. Hope you liked the Bonus pack ;)
Best regards.